WHAT IS A SIGNATURE COLLECTION?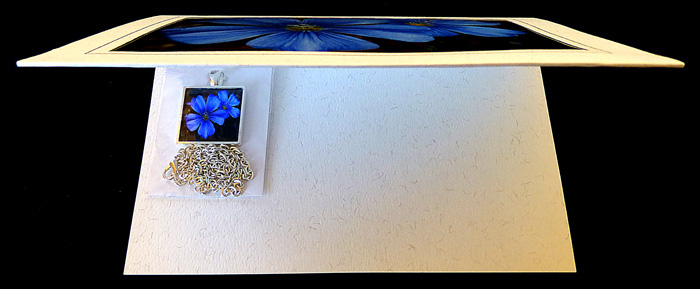 "Handmade Personally Each Time For You"
A SIGNATURE COLLECTION consist of a 5x7 high quality handmade, signed Photo Note Card (photograph printed at FUGI lab) and an envelope with an attached handmade matching gift inside the note card (Pendant, Key Ring, Ornament & Wine Charm). All pendants are a 1"x1" silver square (design on the back) with a "Krystal Clear" cover over the photograph. Each gift is enclosed in a crystal clear bag and is mounted inside the Photo Note Card (displayed in the above image). A SIGNATURE COLLECTION is:

FRAMEABLE: Each 5x7 note card can be set inside a 5x7 frame for a beautiful, framed photograph for a counter, desk or wall.
WEARABLE: The matching handmade Pendant is a beautiful present to be worn. It includes a 24" silver link chain which can be shortened.
HANGABLE: The matching handmade Ornament is a beautiful ornament for the Christmas Holiday or just to be hung in a special place in a home or office. The swirled Ornament hanger is 2" long.
USEABLE: The matching handmade Key Ring or Wine Charm is a beautiful complement to the card to be used and seen every day.
GIVEABLE: The matched gift of the beautiful photograph with your choice of a Pendant, Ornament, Key Ring or Wine Charm is the perfect gift that shows that "The thought is always there." Give that something special and different to someone.

NOTE: You can also order a pendant without a note card (Pendant, Ornament, Key Ring or Wine Charm).